THE HOUSE OF
GHIA
(THE FIRST ONE!)

The first two pictures are of cars at the Imperial car museum in
Las Vegas, May 2001
(The description below each picture is from the card at the museum)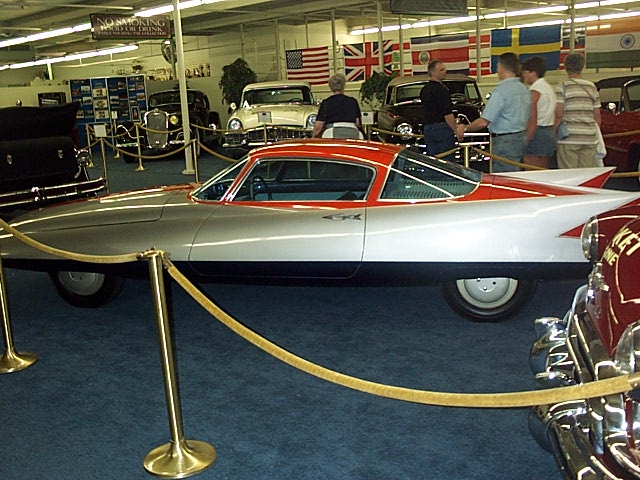 1967 GILDA GHIA AERODYNAMIC COUPE
ID #9967
Few automobile bodies have been so representative of their times as the GILDA. The name Gilda was borrowed from the famous film of the same name which starred Rita Hayworth. The GILDA body shape was said to have been "modeled by the wind," indeed, the GILDA was extensively tested and refined in a wind tunnel. The Gilda body shell-no engine nor drive train was ever fitted-attracted large crowds where it was shown.
PRICE 125,000
1962 DUAL-GHIA L6.4 COUPE
SERIAL NO. 0318
1 OF 26 BUILT
BELIEVED TO BE FORMERLY OWNED BY
LUCILLE BALL AND GARY MORTON
The continuation coupe model of the Dual-Ghia series was called an L6.4 and this time was totally assembled in Italy to save costs. The chassis and drive train were supplied by the chrysler corporation and the end result was again a very popular car with celebrities.
PRICE: $165,000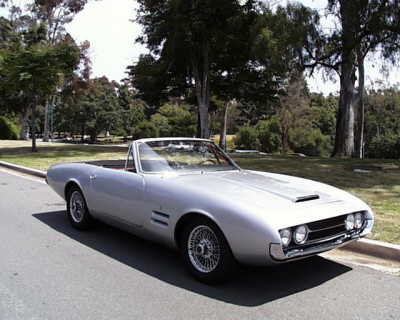 1967 Ghia 450 SS Convertible
In metallic silver with red leather trim. Built by the Ghia design studio in Italy. One of only 52 built. Comes with a
Plymouth V8, auto transmission, power brakes, steering and windows. Has both hard and soft tops and knock off
chrome wheels.
(NOTE: The above picture and description were copied from an EBAY ad on January 23, 2002)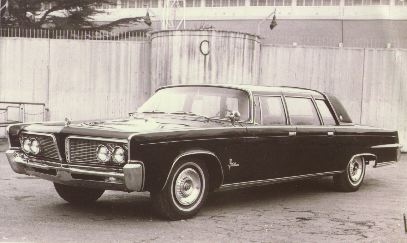 Built on a 1964 Imperial chassis, this model was outfitted by Ghia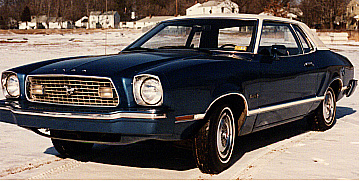 .The Ghia Design House was acquired by Ford Motor Company in the
early 1970's. Ford used the name to try to revive the Mustang
and brought out the Ghia Mustang II.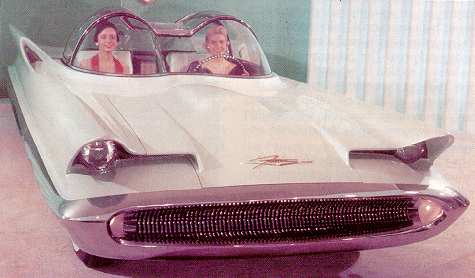 The Lincoln Futura was built in Italy for Ford by Ghia. Total cost for designing and building this one vehicle was a
cool quarter of a million dollars.
(from the web site http://www.javelinamx.com/Batmobile/futura1.htm )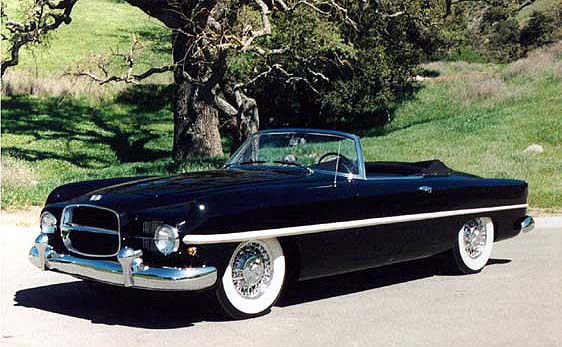 1955 DODGE FIREBOMB SERIAL NO. D55367824 IN 1953, DODGE HERALDED A WHOLE NEW DIRECTION TO THE CHRYSLER-GHIA COOPERATIVE DESIGN WORK WITH THE INTRODUCTION OF THE DODGE FIREARROW. THE FIRST FIREARROW WAS A ROADSTER IN THE TRUEST SENSE OF THE WORD, AS WAS THE SECOND. THE THIRD DODGE-GHIA FIREARROW BECAME THE DODGE FIREBOMB AND WAS GREATLY CIVILIZED WITH SEATING PROVIDED FOR FOUR PASSENGERS. THE FIREBOMB DESIGN BECAME THE PROTOTYPE FOR GENE CASAROLL'S DUAL GHIA CONVERTIBLES.
http://www.blackhawkcollection.com/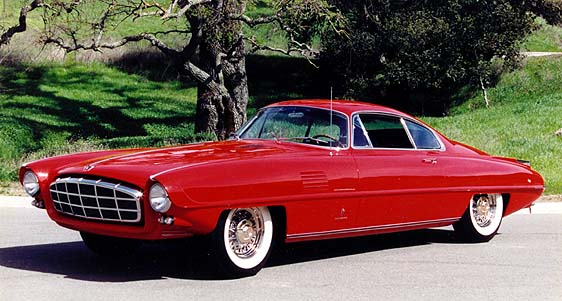 1954 DESOTO ADVENTURER II BY GHIA ID# 14093762 ONE OF THE MOST BEAUTIFUL & DESIRABLE MOTORAMA SHOW CARS CHRYSLER EVER BUILT! GREAT CHANGES AND A NEW EXCITING ATMOSPHERE BECAME EVIDENT WITH THE HIRING OF VIRGIL EXNER AS CHIEF STYLIST AT THE CHRYSLER CORPORATION. FOR THE FIRST TIME IN THE TWENTY YEARS SINCE THE AIRFLOW, WERE NEW AND STARTLING "DREAM CARS" BEING CREATED BY THE COMPANY, DESIGNED BY EXNER. EXNER NEVER CLAIMED MUCH CREDIT FOR THE ADVENTURER II, ATTRIBUTING IT MAINLY TO LUIGI SEGRE AND GIOVANNI SAVONUZZI, AT GHIA, THE BUILDERS OF ALMOST ALL OF THE CHRYSLER IDEA CARS. THIS CAR LEFT THE GHIA SHOPS FOR A SERIES OF AUTOMOBILE SALON APPEARANCES WHERE IT WAS THE CENTER OF ATTRACTION, AS IT OFTEN IS TODAY. IT WAS THEN PURCHASED FROM CHRYSLER BY THE KING OF MOROCCO IN 1956 BUT AS A TWO-DOOR COUPE PROVED IMPRACTICAL FOR HIM IT WAS SOLD TO AN AMERICAN STATE DEPARTMENT DIPLOMAT AND IT HAS HAD ONLY TWO OWNERS SINCE. INTERESTING FEATURES INCLUDE AN ELECTRICALLY CONTROLLED SLIDING REAR WINDOW AND MATCHING LUGGAGE.

http://www.blackhawkcollection.com/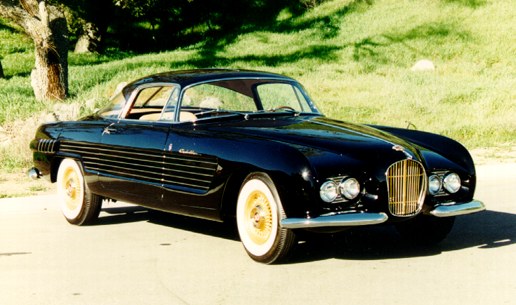 1953 Cadillac by Ghia

http://www.motionalmemories.com/




In the late 1960s, Ford was in need of a high performance GT to combat the likes of Ferrari and Corvette, and assist in generating additional dealership traffic for its mainstream product lines. DeTomaso Automobili was relying on Ford for engines used in the Mangusta and had purchased the Ghia design and coach-building concern. After Ford's failed attempt to purchase Ferrari, the Ford-DeTomaso marriage seemed quite natural, so a business / purchase arrangement was consummated and work began on a new mid-engined GT. It would be marketed in the U.S. by Ford's Lincoln-Mercury division.

Ghia stylist Tom Tjaarda styled the new machine, and Giam Paolo Dallara was engaged for chassis and production design.